At the Cheap Column site, we give you great prices on PolyClassic© Vinyl Steel Core porch posts. That doesn't mean we skimp on quality, we just save money on things like company cars, expensive offices and this web site. If you're a pro, you know what you want, so we don't waste time with a wordy sales pitch, we just give you a product description, the vital dimensions and a price quote.
Vinyl, Steel Core Porch Posts
These porch posts are window grade vinyl with a UV inhibitor.They're made from the same material used for vinyl windows. They're rot-proof, water-proof and insect-proof. Our vinyl posts have a structural galvanized steel square core and a load capacity of 3,000 lb. We offer 8 and 9 foot porch posts. They come in a standard matte white finish, but can be painted to match your project.
About Vinyl, Steel Core Porch Post
Prices and Hardware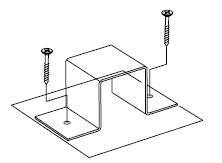 The prices for our vinyl Porch Posts vary based on the options you order. You'll probably want to order the optional uplift bracket (shown left)for each post. The bracket gives your posts a 1,500 lb. uplift rating, which mean it helps keep your roof from blowing off.
If you don't see what you need, head over to Pagliacco.com to see our complete line of porch posts, available in just about any wood species.
$96
For each 4-1/4" x 8' PolyClassic© Vinyl Steel Core porch post, when you buy 20 or more

Vinyl, Steel Core
Porch Post Quantity Pricing
As you see, our prices are based on quantity purchases. Sales tax is collected on California sales. For shipping and handling costs and price quotes for special orders, contact us.
CHEAPCOLUMN.COM
Major Brands, Top Quality, Discount Prices
Made in the USA

Price quotes email: pagliacco@comcast.net
Column price quotes phone: 415‑488‑4333
Column price quotes fax: 415‑488‑9372