At the Cheap Column site, we give you great prices on wood porch posts. That doesn't mean we skimp on quality, we just save money on things like company cars, expensive offices and this web site. If you're a pro, you know what you want, so we don't waste time with a wordy sales pitch, we just give you a product description, the vital dimensions and a price quote.
Pine, Finger-joint Porch Posts
These hollow finger-joint Pine porch posts are the least expensive post we offer. They are made from the kiln dry scrap from door and window stock and then turned. Because they are hollow the pattern is limited by how much wood can be removed. Pine is not very decay resistant, The factory applies a special sealer to the bottom and pre-primes these posts for longer life. In addition there is an optional quick-mount base plate available to ease installation and increase post life. Porch posts are sold in cartons of 4 posts. There's a 25% fee for breaking up a carton.
If you don't see what you need, head over to Pagliacco.com to see our complete line of porch posts, available in just about any wood species.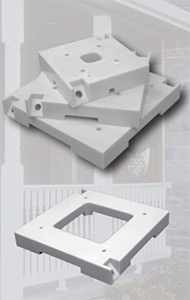 Mounting Blocks
Post Saver Mounting Blocks Required for Warranty add $12 per post
Patent pending design.
Available in 3 sizes (4", 5" and 6").
Works perfectly with Turncraft's wood porch posts.
Supports up to 5,800 lb (6" size).
Easy access mounting holes for securing to bottom structure.
Made from window grade vinyl with UV inhibitors.
Can be painted.
Limited lifetime warranty.
Installation Instructions and
Warranty Information
Post PVC Trim Kits
Optional Post PVC Trim Kit comes with 2 wraps, for the top and bottom. They can be used with Wood Posts. Add per post:
4 inch $24 (not available quick ship)
5 inch $30
6 inch $37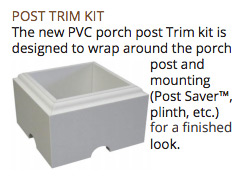 $72
For a 3-1/4" x 8' pine porch post, when you buy more than 20

Pine Porch Post
Quantity Pricing
As you see, our prices are based on quantity purchases. Sales tax is collected on California sales. For shipping and handling costs and price quotes for special orders, contact us.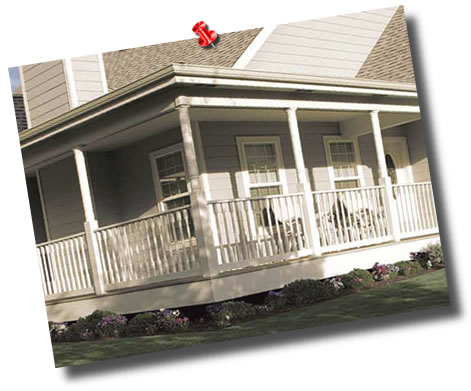 CHEAPCOLUMN.COM
Major Brands, Top Quality, Discount Prices
Made in the USA

Price quotes email: pagliacco@comcast.net
Column price quotes phone: 415‑488‑4333
Column price quotes fax: 415‑488‑9372

Delivered prices are for common carrier accessible locations. Limited access and/or island delivery is not covered by this quote.
ADDITIONAL SERVICES MUST BE REQUESTED AND LISTED ON YOUR INVOICE
Additional charges: Delivery to a JOBSITE, SCHOOL OR COLLEGE, RURAL, FARM, RANCH, CLUB ETC.
ADD $30.00 LIFT-GATE ADD $30.00