At the Cheap Column site, we give you great prices on architectural columns. That doesn't mean we skimp on quality, we just save money on things like company cars, expensive offices and this web site. If you're a pro, you know what you want, so we don't waste time with a wordy sales pitch, we just give you a product description, the vital dimensions and a price quote.
This page shows prices for DuraGlass™, load bearing, square, tapered bungalow columns with plain (not fluted or paneled) shaft. These paint grade columns have a bungalow cap and base. Tuscan caps and bases are also available for this column.
Columns with Tuscan Cap and Base
DuraGlass™ Square Tapered Bungalow Columns
Light weight and easy to install, DuraGlass™ columns are decay resistant, load-bearing, and durable. They are available in a tapered Bungalow design. You can choose either the Bungalow cap and base or a Tuscan cap and base. Because trimming the top of the tapered shaft would result in the top width increasing (and the cap would no longer fit), all trimming must be done from the bottom.
The cap and base on this page will also work with Craftsman PVC columns to match PVC pilasters with these load bearing columns. However, cap/base from other product lines do not work with the column shafts on this page.
DuraGlass tapered columns may be used with PVC Craftsman Pedestals. Since PVC pedestals are not load-bearing, the combination of DuraGlass column and PVC pedestal will NOT be load-bearing.
Pedestals for Craftsman Style Columns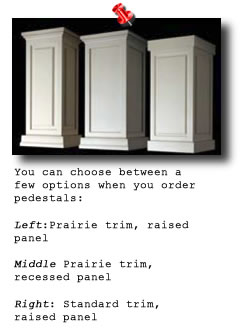 Pedestals for Craftsman Columns
Craftsman columns look great on pedestals and we give you several styles to choose from. Pedestals with plain panels are the cheapest, but for a few more pesos, you may prefer the the look of the raised panels or recessed panels. Recessed panels are the most expensive because they require the removal of a lot more material during production.
$615
For this 12>8 x 8-foot DuraGlass™ square tapered column with Bungalow cap and base.
Price goes down for quantity orders.
Turncraft Column Builder App for Web, iOS or Android
Turncraft, our supplier for craftsman columns provides a Column Builder App allows users to see what options are available. You can create specification documents for individual columns. If you email the specifcation documents to us at pagliacco@comcast.net and we can fulfill your order. For details and links to the Column Builder App, click the image below: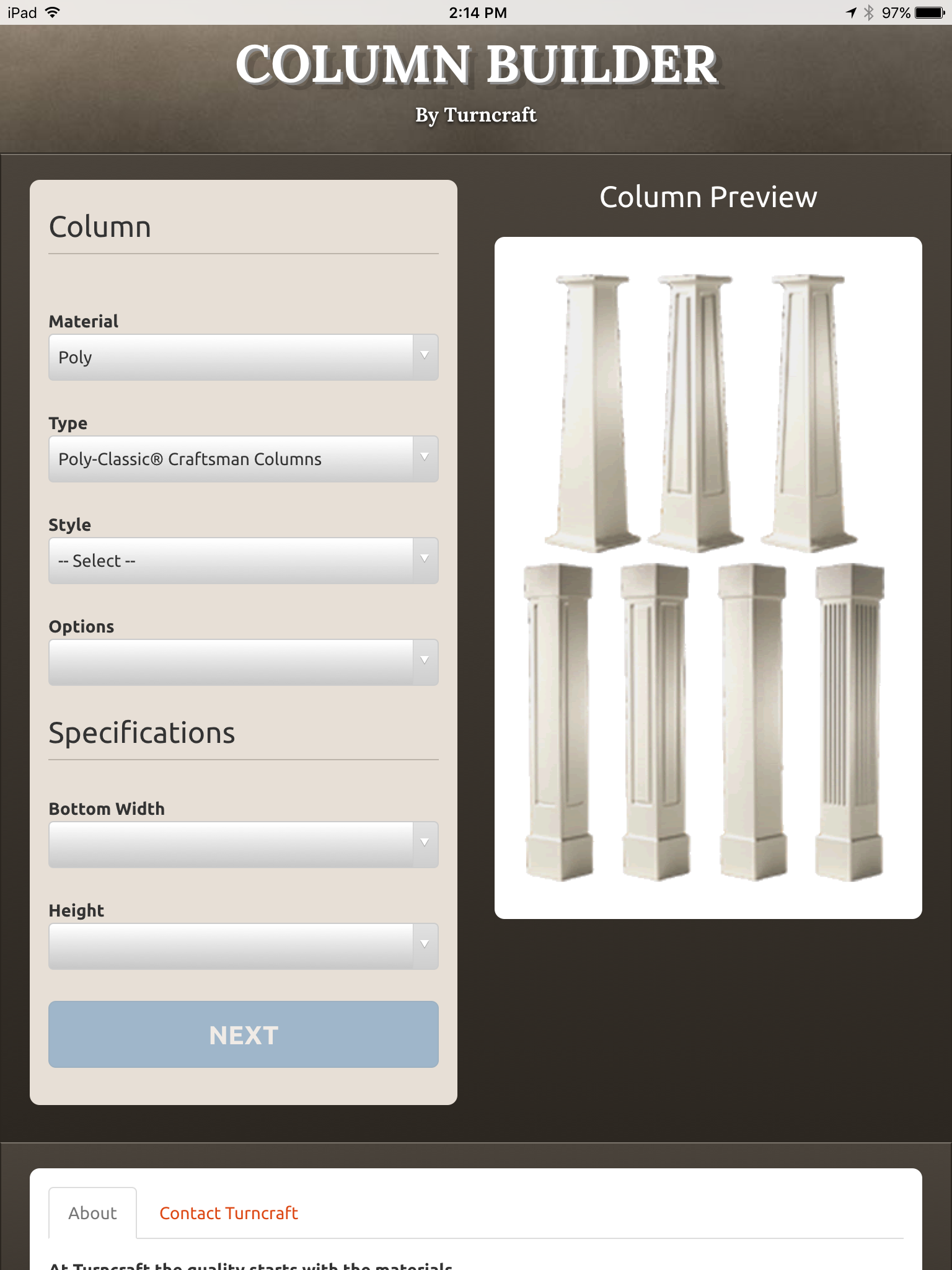 CHEAPCOLUMN.COM
Major Brands, Top Quality, Discount Prices
Made in the USA

Price quotes email: pagliacco@comcast.net
Column price quotes phone: 415‑488‑4333
Column price quotes fax: 415‑488‑9372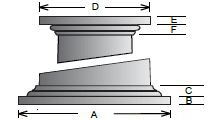 As you see, our prices are based on quantity purchases. Sales tax is collected on California sales. Shipping is not included in the price. To get a quote that includes the shipping cost, click on the Email Quote with Shipping button in the price table. That opens an email form. If you provide the quantity of columns you need and your zip code, we'll give you a quote that includes shipping. We won't share your email with anyone, not even our marketing guy.
Specifications & Installation