This page shows the Poly-Classic® (PVC), non load-bearing, paint grade, square, non-tapered Craftsman columns with Recessed panels.
These columns have a crown cap and base. Other caps and bases are available.
More Cap and Base Styles
Plan Types
Craftsman Series are available in the following plan types. We assume your request if for full square (plan E) unless specified otherwise.
Craftsman Column Wraps
Our customers have been extremely happy with the look, feel and durability of Turncraft's Craftsman product line. Craftsman columns, pedestals and newels are non-load bearing and ship flat packed for field assembly around a structural post. There are many benefits to these non-structural column wraps. Craftsman columns are lighter, less expensive and cheaper to ship than load bearing columns. In addition, they are milled rather than molded, so details are a bit crisper. Decorative load bearing columns require special care during the rough construction phase to prevent cosmetic damage. With a decorative wrap you can install an inexpensive structural post (such as pressure treated wood or steel) during the construction framing phase and then install your Craftsman wrap during the trim phase.
The shaft comes in 4 pieces with mitered ball and socket edge joints for easy assembly. The cap and base trim comes as separate pieces for easy assembly. Most Craftsman columns are made to order in about 3-5 weeks. Because Craftsman products are cut with CNC routers, custom sizes and configurations are available. All Craftsman products are available in the wood of your choice on special order for interior stain grade applications. Because the panels are cut with a router, inside corners are radiused (rounded). Recessed panels are cut with a 1/16 -inch radius bit. Recessed panels are cut with a 5/16- radius, tighter radius (1/16-inch) cuts are available for a small up-charge.
Customize Your Columns
Craftsman PVC columns are made on a CNC router, so altered shaft sizes and details are available. If you have odd heights, or if you would like panels or flutes on non-tapered columns to end closer to the cap and base, let us know. It is also possible to combine different trim to get the look you want. We can create some custom trim looks with available tooling. Show us the look you want and we will see what we can do.
Pedestals for Craftsman Columns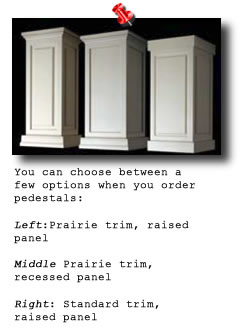 Pedestals for Craftsman Columns
Craftsman columns look great on pedestals and we give you several styles to choose from. Pedestals with Raised panels are the cheapest, but for a few more bucks, you may prefer the look of the raised panels or recessed panels. Recessed panels are the most expensive because they require the removal of more material during production.