This page shows Poly-Classic® (PVC), non load bearing, paint grade, square, non-tapered Craftsman column wraps with fluted panels on the shaft.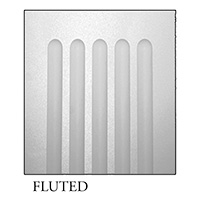 These columns have a Tuscan cap and base and decorative necking. Other caps and bases are available.
Plan Types
Craftsman Series are available in the following plan types. Please specify when you order. (Customer may specify actual returns, wall thicknesses, etc.) Plan O & N are availabe only as non-tapered.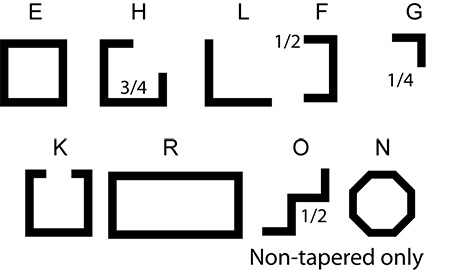 More Cap and Base Styles
Craftsman Column Wraps
Our customers have been extremely happy with the look, feel and durability of Turncraft's Craftsman product line. Craftsman columns, pedestals and newels are non load bearing and ship flat packed for field assembly around a structural post. We believe there are many benefits to these non structural column wraps. Craftsman columns are lighter, less expensive and cheaper to ship than load bearing columns. In addition, they are milled rather than molded, so details are a bit crisper. Decorative load bearing columns require special care during the rough construction phase to prevent cosmetic damage. With a decorative wrap you can install an inexpensive structural post, such as pressure treated or steel, during construction and then install your Craftsman wrap during the trim phase.
The shaft comes in 4 pieces with mitered ball and socket edge joints for easy assembly. The cap and base trim comes separate pieces for easy assembly. Most Craftsman columns are made to order in about 3 weeks. Because most Craftsman products are made to order, and cut with CNC routers, custom sizes and configurations are available. All Craftsman products are available in the wood of your choice on special order. We do not recommend the wood option for paint grade applications; the cost is higher and the PVC holds up better outside. Because the panels are cut with a router, inside corners are radiused (rounded), tighter radius (1/8") cuts are available for a small up-charge.
Pedestals for Craftsman Columns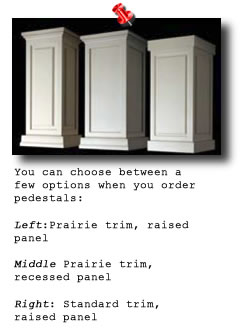 Pedestals for Craftsman Columns
Craftsman columns look great on pedestals and we give you several styles to choose from. Pedestals with plain panels are the cheapest, but for a few more pesos, you may prefer the the look of the raised panels or recessed panels. Recessed panels are the most expensive because they require the removal of a lot more material during production.
$429
For this 10-inch 8-foot craftsman column with fluted panels, Tuscan cap and base, and necking.
Quantity Discounts on Craftsman Columns
Turncraft Column Builder App for Web, iOS or Android
Turncraft, our supplier for craftsman columns provides a Column Builder App allows users to see what options are available. You can create specification documents for individual columns. If you email the specifcation documents to us at pagliacco@comcast.net and we can fulfill your order. For details and links to the Column Builder App, click the image below: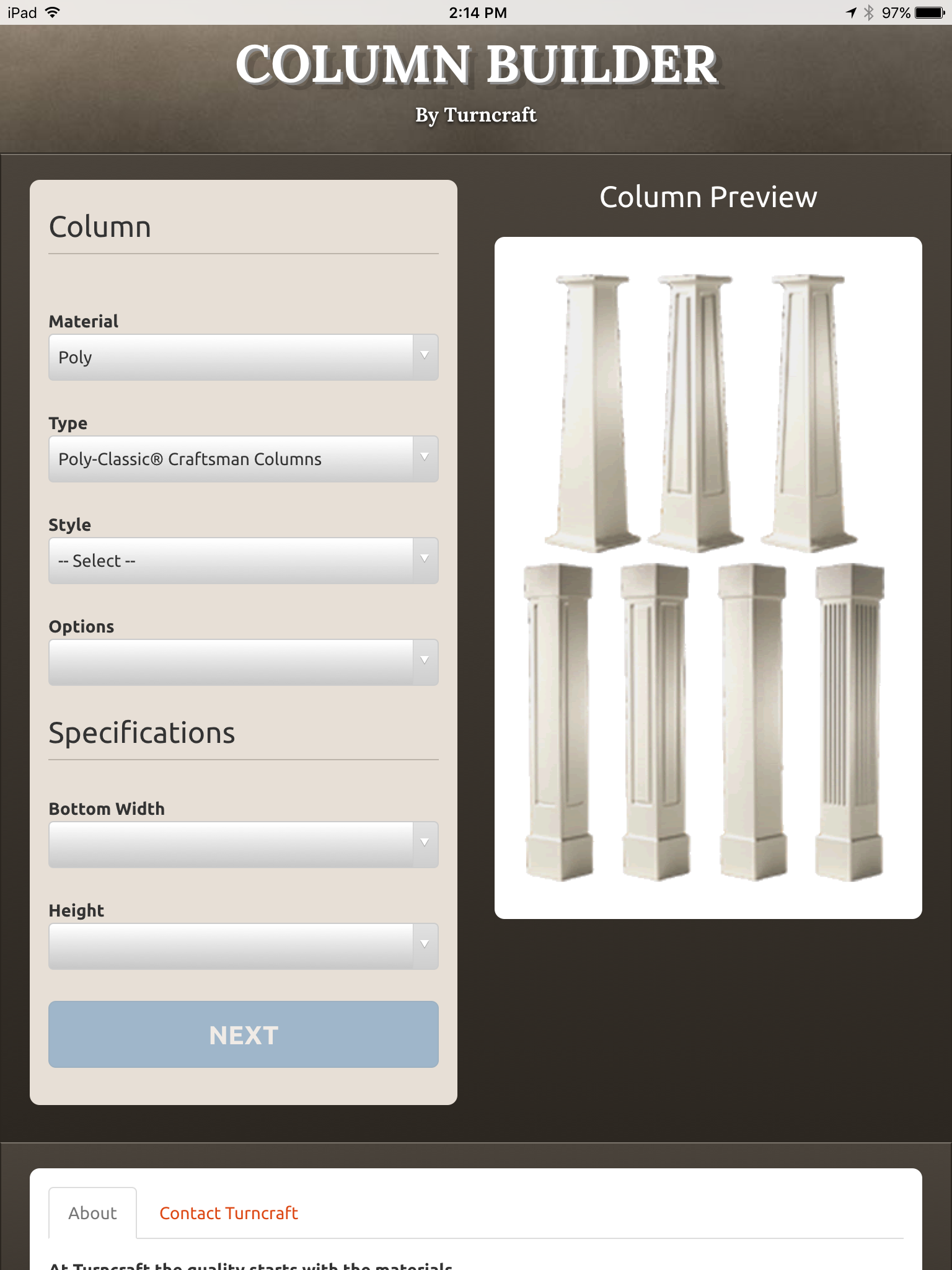 CHEAPCOLUMN.COM
Major Brands, Top Quality, Discount Prices
Made in the USA

Price quotes email: pagliacco@comcast.net
Column price quotes phone: 415‑488‑4333
Column price quotes fax: 415‑488‑9372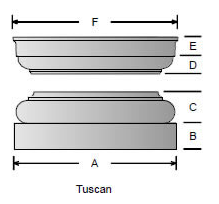 Our prices are based on quantity purchases. Sales tax is collected on California sales. Shipping is not included in the price. To get a quote that includes the shipping cost, click on the "Get a Quote including shipping" button in the price table. That opens an email form. If you provide the quantity of columns you need and your zip code, we'll give you a quote that includes shipping. We won't share your email with anyone, not even our marketing guy.
LIMITED LIFETIME WARRANTY
Poly-Classic® Columns are virtually maintenance-free. They are impervious to termite and carpenter ant attack as well as staining and decaying fungi. High-humidity environments have no effect on these nonporous, waterproof columns. Competing craftsman column wraps are often less durable and made from thinner material. Here are the details for Turncraft's Limited Lifetime Warranty.
Decorative Cap
When you really want to dress up your square columns consider these ornamental caps. Decorative capitals are made from fiber reinforced plaster, fiberglass, wood fiber or wood. Capital styles include: Empire with or without Necking, Greek Angular Ionic, Greek Erectheum with or without Necking, Modern Composite, Roman Corinthian, Roman Doric Ornamental, Roman Ionic, Scamozzi and Temple of Winds.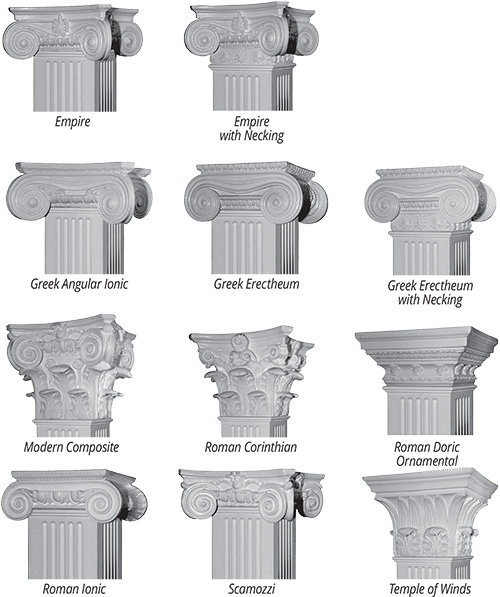 Specifications & Installation