At the Cheap Column site, we give you great prices on architectural columns. That doesn't mean we skimp on quality, we just save money on things like company cars, expensive offices and this web site. If you're a pro, you know what you want, so we don't waste time with a wordy sales pitch, we just give you a product description, the vital dimensions and a price quote.
The cap and base sets for non-tapered Craftsman Series columns consist of a mitered wrap or a molding. These wraps and/or moldings do not have the E-Z Lock joint, due to the routed edges of the parts.
In addition to the standard cap and base profile, optional Mission, Tuscan and Prairie styles are available. These styles allow customers more freedom of choice when designing their columns, and may be mixed and matched as desired. Custom options may be possible as well, based on customer requirements.
For columns of non-standard size, the widths of the cap and base will be adjusted accordingly. The heights however will remain the same. Since the non-tapered cap and base install around the shaft, the inside size of the cap will be the same as the outside net width of the column.
Standard Cap & Base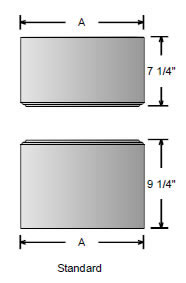 6-7/8"
8-7/8"
10-7/8"
12-7/8"
14-7/8"
16-7/8"
18-7/8"
20-7/8"
22-7/8"
24-7/8"
---
Mission Cap & Base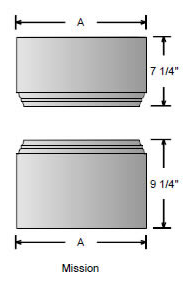 7-5/8"
9-5/8"
11-5/8"
13-5/8"
15-5/8"
17-5/8"
19-5/8"
21-5/8"
23-5/8"
25-5/8"
---
Tuscan Cap & Base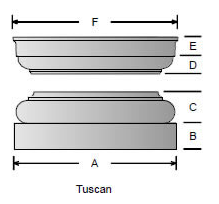 | | | | | | | | |
| --- | --- | --- | --- | --- | --- | --- | --- |
| 8" | 1-1/2" | 1-3/4" | 3-1/4" | 1" | 1-1/16" | 2-1/16" | 8-7/16" |
| 10-7/8" | 1-7/8" | 2-3/8" | 4-1/4" | 1-3/4" | 1-3/8" | 2-11/16" | 11-1/4" |
| 13-1/2" | 2-3/8" | 2-7/8" | 5-1/4" | 1-13/16" | 1-3/4" | 3-9/16" | 13-1/4" |
| 17" | 2-3/4" | 3-1/4" | 6" | 1-7/8" | 2" | 3-7/8" | 17-1/4" |
| 18-5/8" | 3-3/8" | 4" | 7-3/8" | 2-5/8" | 2-3/8" | 5" | 19" |
| 20-5/8" | 3-3/8" | 4" | 7-3/8" | 2-5/8" | 2-3/8" | 5" | 21" |
| 22-5/8" | 3-3/8" | 4" | 7-3/8" | 2-5/8" | 2-3/8" | 5" | 23" |
| 24-5/8" | 3-3/8" | 4" | 7-3/8" | 2-5/8" | 2-3/8" | 5" | 25" |
| 26-5/8" | 3-3/8" | 4" | 7-3/8" | 2-5/8" | 2-3/8" | 5" | 27" |
| 28-5/8" | 3-3/8" | 4" | 7-3/8" | 2-5/8" | 2-3/8" | 5" | 29" |
---
Prairie Cap & Base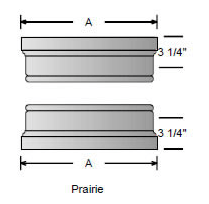 | | | | |
| --- | --- | --- | --- |
| 8-1/8" | 3-1/4" | 8-1/8" | 3-1/4" |
| 10-1/8" | 3-1/4" | 10-1/8" | 3-1/4" |
| 12-1/8" | 3-1/4" | 12-1/8" | 3-1/4" |
| 14-1/8" | 3-1/4" | 14-1/8" | 3-1/4" |
| 16-1/8" | 3-1/4" | 16-1/8" | 3-1/4" |
| 18-1/8" | 3-1/4" | 18-1/8" | 3-1/4" |
| 20-1/8" | 3-1/4" | 20-1/8" | 3-1/4" |
| 22-1/8" | 3-1/4" | 22-1/8" | 3-1/4" |
| 24-1/8" | 3-1/4" | 24-1/8" | 3-1/4" |
| 26-1/8" | 3-1/4" | 26-1/8" | 3-1/4" |
---
Crown Cap & Base

| | | | |
| --- | --- | --- | --- |
| 9-7/8" | 3" | 9-7/8" | 3" |
| 11-7/8" | 3" | 11-7/8" | 3" |
| 13-7/8" | 3" | 13-7/8" | 3" |
| 15-7/8" | 3" | 15-7/8" | 3" |
| 17-7/8" | 3" | 17-7/8" | 3" |
| 19-7/8" | 3" | 19-7/8" | 3" |
| 21-7/8" | 3" | 21-7/8" | 3" |
| 23-7/8" | 3" | 23-7/8" | 3" |
| 25-7/8" | 3" | 25-7/8" | 3" |
| 27-7/8" | 3" | 27-7/8" | 3" |
---
Rake Cap & Base

| | | | |
| --- | --- | --- | --- |
| 7-7/8" | 2" | 7-7/8" | 2" |
| 9-7/8" | 2" | 9-7/8" | 2" |
| 11-7/8" | 2" | 11-7/8" | 2" |
| 13-7/8" | 2" | 13-7/8" | 2" |
| 15-7/8" | 2" | 15-7/8" | 2" |
| 17-7/8" | 2" | 17-7/8" | 2" |
| 19-7/8" | 2" | 19-7/8" | 2" |
| 21-7/8" | 2" | 21-7/8" | 2" |
| 23-7/8" | 2" | 23-7/8" | 2" |
| 25-7/8" | 2" | 25-7/8" | 2" |