At the Cheap Column site, we give you great prices on architectural columns. That doesn't mean we skimp on quality, we just save money on things like company cars, expensive offices and this web site. If you're a pro, you know what you want, so we don't waste time with a wordy sales pitch, we just give you a product description, the vital dimensions and a price quote.
These columns from Royal Corinthian are made from low-maintenance fiberglass-reinforced polymer (FRP). The matching caps are also made from the same high quality, fiberglass-reinforced polymer. We also have Greek Doric columns with a fluted shaft:
These columns are rot-proof, water-proof and insect-proof and come with a limited lifetime warranty. They do need to be primed and painted following these finishing instructions.
Column Quantity Pricing
The table below shows paint grade column pricing that varies based on quantity purchased. Prices do not include the shipping and handling charges from West Chicago (60185).  
If you want polymer-stone products that do not require painting here are multipliers to see costs for those products:
White smooth, white textured and color textured multiply prices shown below by 1.55
Smooth colored surface, multiply by 1.65
We will match almost any custom color, multiply by 1.85
Sales tax is collected on California sales. At this time we are not obligated to collect any sales tax for sales outside California. For shipping and handling costs and price quotes for special orders, contact us:
Greek Doric Plain Shaft Column Specifications
The Greek Doric cap adds to the shaft height: Available Heights includes the height of the cap. Column Load-bearing Capacity: 20,000 lbs with concentric loading. Average wall thickness is 5/8" for columns up to 28" in diameter and 3/4" for 29" and up.
$567
For this 12" x 8' Greek Doric Plain Shaft Column complete with Greek Doric cap
CHEAPCOLUMN.COM
Major Brands, Top Quality, Discount Prices
Made in the USA

Price quotes email: pagliacco@comcast.net
Column price quotes phone: 415‑488‑4333
Column price quotes fax: 415‑488‑9372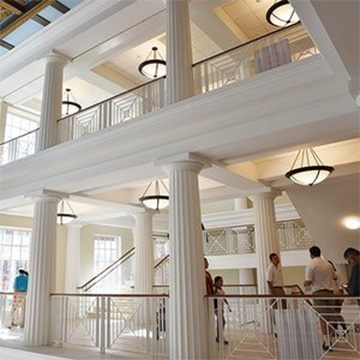 (Fluted show here, also available with plain shaft)
Column price quotes phone: 415‑488‑4333
Column price quotes fax: 415‑488‑9372


About our Greek Doric Plain Shaft Column Price Quotes
The prices for our Greek Doric Plain Shaft Columns vary based on the options you order. For most uses you'll want the matching Greek Doric cap. Email us if you would like a quote for Greek Doric shafts without the caps.
Finishing Instructions for
paint grade fiberglass-reinforced polymer (FRP) products
1. Make sure all surfaces are clean prior to painting. Use mineral spirits if oil or alkyd products are used. Warm soapy water should be used if latex products are utilized. Synthetic cap and base/plinth: A non-oil based cleaner should be used to clean the cap/base plinth. Note: Columns should never be sprayed with water prior to installation.
2. For best results, use Alkyd or oil base primer and paint are recommended. Latex products can be used, but additional sanding is required and results aren't as good.
3. Use a good, high-quality exterior paint. At least one coat of primer and two coats of a final paint should be used. Note: Do not paint using dark colors (dark colors are considered any color that falls within the L values of 56 to 0). L is a measure of the lightness of an object and ranges from 0 (black) to 100 (white). Note: Spray painting is not recommended. Paint should be applied with a brush.
4. Follow paint manufacturer's instructions concerning use within temperature ranges for best results.
5. Do not use paint or solvents containing acetone.