At the Cheap Column site, we give you great prices on architectural columns. That doesn't mean we skimp on quality, we just save money on things like company cars, expensive offices and this web site. If you're a pro, you know what you want, so we don't waste time with a wordy sales pitch, we just give you a product description, the vital dimensions and a price quote.
Column price quotes phone: 415-488-4333
Column price quotes fax: 415-488-9372

Price quotes vary based on the options you order.


Our Poly-Classic® Craftsman columns are made from expanded, cellular PVC and use an E-Z Lock joint design. They can be trimmed, drilled and fastened using ordinary carpentry tools. But unlike traditional wood columns that require exceptional joinery and assembly, these columns are ready for quick installation. Their hollow centers are also useful as channels to conceal downspouts, wiring or plumbing.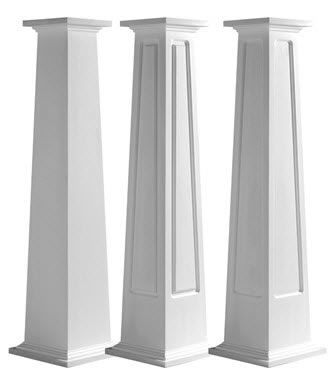 Fiberglass Reinforced Polymer (FRP) columns are available tapered or non-tapered (as shown below). Unlike the PVC column wraps, these columns are load-bearing and can be used to support architectural elements.

Pagliacco Turning & Milling is the owner of The Cheap Column Site, where we sell a variety of products from different manufacturers. For decades, Pagliacco Turning & Milling has manufactured top quality columns from all different types of wood.